Zenit expands range of aerators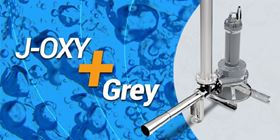 Zenit has released its renewed and expanded range of Venturi type bottom aerators, the J-Oxy, commonly used in purification plants because of its effective combined mixing and oxygenation action.
In addition to its use with the Uniqa submersible pumps up to 30 kW, the cast iron J-Oxy ejector with stainless steel diffuser cone can now be coupled with the Grey submersible pumps with power up to 4.0 kW. Commercial 1200 mm flanged pipes are used for the suction stack.
The OXY 80 and 150 devices also feature an interchangeable Vulkollan-coated steel diaphragm that can be replaced without separating the pump from the ejector allowing the calibration of the air-to-water ratio.
The system can be installed in two ways:
In a mobile configuration, where the pump and the OXY body are firmly joined together and rest on the bottom of the tank by means of metal bases.
In a fixed configuration, in which the OXY body is attached to a coupling device fixed to the bottom of the tank and the pump is lowered along the guide pipes to the coupling device using a chain coupled to the handle.