New vacuum pump exhaust traps eliminate hydrocarbon emissions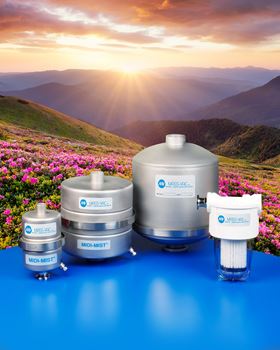 A new line of oil mist eliminators that can prevent virtually all hydrocarbon emissions from pumps has been introduced by Mass-Vac.
The eliminators help keep the environment clean and people safe by removing harmful oil vapours from a vacuum pump's exhaust stream with 99.99% efficiency.
They feature replaceable microfibre glass coalescing filter elements with a 0.1-micron pore size and come in four models from 4–10 in to fit vacuum pumps ranging from 5–300 m3 per minute (CFM).
Fully compliant with the restriction of hazardous substances (RoHS), MV Oil Mist Eliminators can be configured to recover or recirculate costly pump fluids.
The line includes four models – the VisiMist (clear housing) and Midi-Mist 4 in diameter that both use one filter, the Midi-Mist 8 in which has three filters and Maxi-Mist 10 which has five.
The range is designed for commercial, industrial, laboratory, medical and other vacuum pumps.