Tsurumi ensures continued delivery capability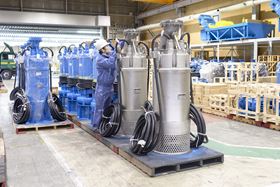 International pump manufacturer Tsurumi has confirmed that the majority of its product range continues to be available at short notice, despite the Covid-19 pandemic.
Tsurumi's Japanese headquarters maintains large intermediate storage facilities and distribution warehouses. In Europe, Belgium functions as the central logistics centre, where Tsurumi keeps a stock level that guarantees supply for six months. As a precaution during the Covid-19 crisis, the stock in Düsseldorf has also been considerably increased and spare parts supply in the EU is also handled centrally from Düsseldorf. As a result, a substantial part of the product range can be delivered within 24 hours.
Daniel Weippert, managing director for Europe, in Düsseldorf, Germany, said that the company's warehouses are full and only extreme weather conditions could cause short-term bottlenecks. Most of the company's pumps are manufactured in Japan and the country is currently not as affected by the crisis as others.
In Kyoto, Japan, the manufacturer maintains the world's largest production facility in the industry. Its pump construction and modular design allows customers to carry out maintenance themselves.