Thompson Pump wins Cigna Well-Being Award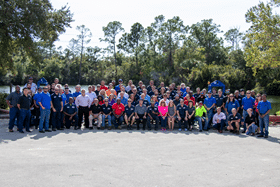 Thompson Pump and Manufacturing Co has won a 2020 Cigna Well-Being Award for creating a healthy place to work and do business.
The manufacturer of heavy-duty portable bypass and dewatering pumps was honoured by the health service company with "Outstanding Culture of Well-Being" in North Florida.
Cigna Well-Being Award applicants are evaluated based on the core components of their wellness program, including leadership engagement, company culture, strategy and goals, implementation, and employee engagement.
In 2020, Thompson Pump's wellness committee – a team of cross-functional members who rotate annually – looked for ways to engage employees during the Covid-19 pandemic. These included hosting activities and challenges that could be done from home, such as a video series on physical and mental health, and healthy cooking; walking challenges; virtual activities such as yoga, stretching and mindfulness classes; and sharing monthly newsletters from Cigna on practicing self-care. Employees also submitted their favourite healthy recipes which were then compiled into a cookbook, as part of the pump company's 50th anniversary celebration.
"The health and wellbeing of everyone who works here is of the utmost importance," said Chris Thompson, president of Thompson Pump and Manufacturing Co. "We couldn't do what we do without our team and we want each and every person to be and feel the best they can."