Leybold introduces small high vacuum system for labs & research facilities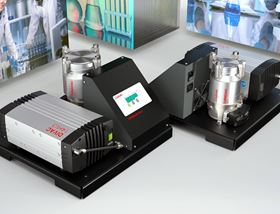 Vacuum specialist Leybold has released the TURBOLAB Core, a small plug-and-play high vacuum pumping system for research and laboratory and industrial applications.
Part of the TURBOLAB series, the compact tabletop unit fills the gap for entry-level vacuum needs that require a clean, dry, stable high and ultra-high vacuum. The TURBOLAB series is now available in a total of five models and covers the complete application spectrum for R&D and analytical applications.
The robust, low-noise high-vacuum system is geared to the specific ambient conditions of laboratories and research facilities, one of the reasons why the compact pumping station frame stands on rubber feet. Leybold product manager, Petr Lastovicka, said: "With this foundation, we prevent the transmission of vibrations, for example when the TURBOLAB Core is placed close to a microscope."
Both the operation and the control of the TURBOLAB Core are intuitive and user friendly – the controller also serves as a speed and pressure display. The company says that with the compact TURBOLAB Core model, the company is rounding off its portfolio with a perfectly tuned model.