Daikin unveils plan to help decarbonise homes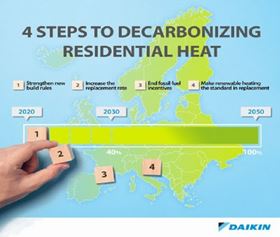 Heat pump manufacturer Daikin has released its four-step guide to decarbonising homes which aligns with the European Commission's recent Fit for 55 plan to put its decarbonisation strategy into practice and set the EU on course to cut greenhouse gas emissions by 55% by 2030.
Daikin's four-step guide is linked to the EU's plan and includes the strengthening of new build rules on energy use to phase out the most polluting heating systems. Increasing the replacement rate of heating devices with more energy efficient ones is also high on the list by offering incentives to switch from fossil fuels. The company would like to see heat pump systems become standard when replacing heating systems.
Importantly, the company wants policy makers to end fossil fuel incentives which benefit oil or gas boilers so that there is a more level playing field for renewable technologies and heat pumps become a more economically attractive investment.
Daikin says that hydronic heat pump technology has developed quickly in recent years, making it fit for any type of residential building in Europe whether the new build market or replacement market.