Grundfos inaugurates digital lab in Asia-Pacific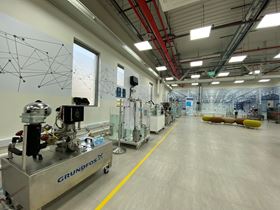 Grundfos has opened its digital lab in Singapore – the first of its kind by the company in Asia-Pacific – as a strategic initiative to drive greater adoption of intelligent water solutions in the region.
The lab will showcase Grundfos' range of iSOLUTIONS products, which use intelligent technology to deliver greater energy efficiency and reliability in sectors such as water distribution and wastewater treatment by water utilities, pressure boosting and heating, ventilation and air conditioning in commercial buildings and in industrial applications.
Products include the Grundfos SMART Digital XL DDA and DDE dosing pumps, which enable accurate chemical dosage across numerous production processes including drinking water, wastewater treatment, and industrial processing, reducing chemical consumption by 5-19%. The lab also demonstrates the Grundfos Remote Management – a secure, internet-based system, which intelligently monitors and manages water flows in pump installations through the interconnectivity of pumps, sensors and meters.
The iSOLUTIONS lab will also play the role of a training facility for Grundfos partners and employees across sales, service, and production to familiarise them with iSOLUTIONS, which was previously only available in Europe.