Wilo expands in Southeast Asia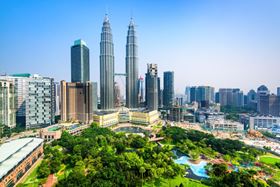 The Wilo Group has opened a new assembly plant in Kuala Lumpur, Malaysia, which will serve as a platform for the Southeast Asia region.
The new facility has a modern assembly line, a state-of-the-art test bench and an office with dedicated training rooms. Assembled pumps can be tested directly on-site in accordance with ISO 9906.
The first pumps – Atmos GIGA-N pump sets – have already been assembled, and production of vertical pressure-boosting systems is planned from the end of 2021.
"With the platform in Malaysia, we are investing in the central hub of this strategically important economic region," said Jens Dallendörfer, senior vice president Sales Region Emerging Markets of the Wilo Group and board member of the East Asia Association. "This is an important step in order to further expand our market position in Southeast Asia in line with the Wilo Group's "region-for-region" approach and to benefit from the expected growth in the relevant business areas."
"With the investment into the new assembly line, we have laid the foundation for expanding our local added value and to accelerate the export activities from Malaysia to the neigbhouring countries," said Vignesh Nathan, Wilo's managing director, Malaysia and region group director SEA.