Elliott invests in new cryogenic pump testing facility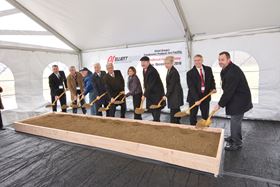 Ebara Corp's Elliott Group is building a new US$60 million cryogenic pump testing facility in Jeannette, Pennsylvania, USA.
Elliott recently held a groundbreaking ceremony for the new facility which will be located a mile from the company's headquarters and main manufacturing campus in Jeannette. Construction is expected to take about 18 months.
This is the biggest capital project in Elliott's history. It will include six buildings, with a building area of approximately 30 000 sq ft on a 13-acre site.
"We are proud of this moment," said Ebara chairman Toichi Maeda. "Elliott products will be shipped around the world from this location."
Elliott's Cryodynamics line of submerged electric pumps and expanders are used both onshore and offshore for cryogenic liquefaction, storage, and regasification applications.