Lutz launches new screw pump for viscous liquids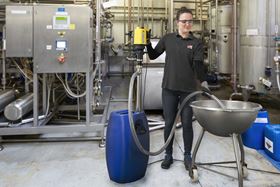 Lutz Pumpen's new HD-E-SR eccentric screw pump is light and mobile and the pump tube has a smaller outer diameter which allows viscous fluids up to 30,000 mPas to be gently filled from narrow-necked containers.
Viscous liquids are usually transferred and filled using different eccentric screw pumps with an outer tube diameter of 54 mm for emptying drums and containers with a 2-in bunghole. However, smaller, narrow-necked containers with different bunghole sizes are increasingly being used for transferring viscous liquids which require a smaller pipe diameter.
The new HD-E-SR eccentric screw pump is a powerful pump with either an electric or compressed air motor. The high speeds of the standard motors with an output of up to 1 kW are reduced by a specially developed reduction gear. The variable control of the electric and compressed air motors allows the flow rate to be adjusted and regulated.
With a flow rate of 17 l/min and an operating pressure up to a maximum of 6 bar, the Lutz HDE-SR pump is optimally suited for the economical pumping thin-bodied to highly viscous liquids.