KSB establishes consulting centre for additive manufacturing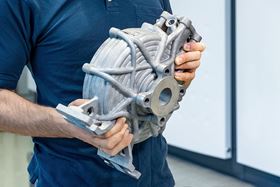 The KSB Group has set up a new consulting and testing centre for additive manufacturing at its Pegnitz site in Germany.
Drawing on over ten years of experience in additive manufacturing, the pump and valve manufacturer will help other companies to set up their own production facilities.
KSB will offer a range of services from advice on selecting the right equipment to developing design skills and production expertise as well as testing materials and components. In addition to producing its own spare parts with its own 3D printers, KSB is also able to offer contract manufacturing of components from other industries.
KSB has been developing and researching metal materials in Pegnitz for over one hundred years, particularly for corrosive and abrasive applications in process engineering. The company has developed over 300 alloys in the areas of cast iron, unalloyed steels, bronze, stainless steels and duplex steels.