KSB agreement links pump configurator to BIM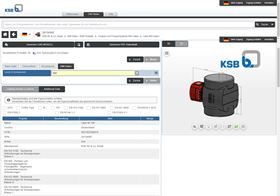 KSB recently reached a strategic agreement with Norwegian IT specialist Cobuilder AS to link the KSB pump configurator to the Building Information Modelling (BIM) data portal.
In addition to CAD drawings, this connection enables consultants to download all relevant information for a pump or valve they have configured. Users only need to interact with a single interface hosted by the KSB Group. This allows them to access structured product information and 3D visualisation of the pump or valve.
The use of standardised data templates enables the generation of reliable, machine-readable product data using the product configurator. This also includes relevant 3D object data which moves between software platforms to meet the needs of each individual construction project.
The KSB Group has already pioneered the development of tools for the online selection and online marketing of its products and its continuous improvement of online configurators and the associated data management is part of that development.
Cobuilder AS has extensive experience in facilitating interoperability across multiple software platforms, meeting customers' the specific needs when they use the KSB product configurator.