Hardide wins Queen's Award for international trade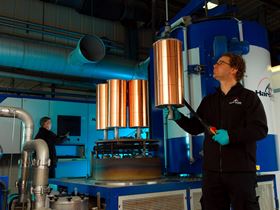 UK coating technology company Hardide plc has been awarded the Queen's Award for Enterprise: International Trade 2020.
The Oxfordshire-based company wins the award for outstanding short-term growth in overseas sales. Hardide's international sales increased by 152% over the three years to 30 September 2018. The company continued this into fiscal 2019, securing record overall revenues of which 67% were international.
Hardide develops, manufactures and applies nanostructured wear, corrosion and erosion resistant coatings to a wide range of high wear/high value engineering components including for pumps and valves.
Now in its 54th year, the Queen's Awards for Enterprise recognise British businesses who excel at international trade, innovation or sustainable development.
"A Queen's Award is one of the greatest accolades for a British business and we are extremely proud that the international growth of our business has been recognised in this way," said Philip Kirkham, CEO of Hardide plc.
The business is to double its UK footprint later this year with a move to a 20 000 sq ft custom-fitted new manufacturing facility in Bicester, Oxfordshire. The company currently employs 35 people in the UK and 13 in the US.