Tsurumi showcases engineering at World of Concrete 2021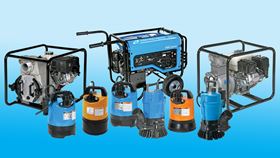 This week Tsurumi Pump takes its portfolio of general construction pumps to World of Concrete 2021, which takes place at the Las Vegas Convention Center, from 8–10 June, with seminars and other education programmes starting 7 June.
Tsurumi's booth (N2468 in the North Hall) will feature the company's range of dewatering and trash pumps, and a special cutaway display of its HS2.4S electric submersible pump, designed to tackle water that contains sand and other debris with minimal wear and clogging, designed for many types of construction applications.
By displaying the inner workings of the HS2.4S, Tsurumi will give attendees an in-depth look at the robust engineering the company employs throughout its product lines. For example, its silicon carbide seals are not exposed to the elements but are sealed in a bath of oil, protecting them from outside heat and moisture, which enables the pumps to handle the aggressive applications found in tunnelling, mining and construction.
Other products at the company's booth will include the LB-480 and LB-800 electric submersible dewatering pumps, the LSC1.4S and LSR2.4S electric submersible ground drainage pumps, the HS2.4S, HSE2.4S and HS3.75S semi-vortex submersible trash pumps, the TE3-50HA engine-driven centrifugal pump and the TPG4-6000HDX portable generator.