Tsurumi America introduces explosion-proof series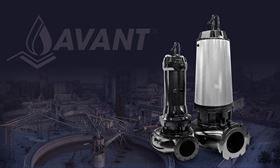 Tsurumi America's new AVANT Series is a line of submersible, explosion-proof pumps for wastewater applications, which was released earlier this year in Asia and is now making its debut in North America.
The new line has been certified in accordance with FM Global explosion-proof specifications to ensure products conform to the highest safety standards. The pumps feature a modern design and IE3 premium efficiency motors that deliver high performances and withstand continuous duty cycles. They have a closed-circuit cooling system which uses a water-glycol mixture, preventing contamination of the system while cooling the motor. Additionally, customers can order tailor-made AVANT pumps from the factory, with specific configurations that match the demands of their jobs.
The AVANT series has five different types of impeller and is available in wet (submersible) and dry pit versions. In the dry pit versions, the motor is cooled by a system exclusive to Tsurumi that uses a water-glycol mix circulating in a special closed loop circuit, which keeps the cooling mix separate from the wastewater in which the pump is immersed.