Sulzer offers maintenance support in Colombia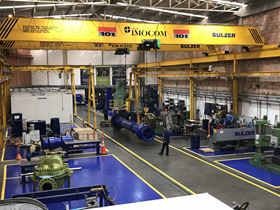 Sulzer has specialist teams based at its Bogota service centre in Colombia, offering services for rotating equipment to support customers in power generation, oil & gas, mining and water as well as general industry.
Sulzer offers long-term parts and service contracts which simplify maintenance projects and reduce lead times for components. Its Colombian service centre has extensive in-house expertise and can also call on a worldwide network of engineering facilities, enabling repairs and upgrades to be completed efficiently and cost-effectively.
To determine the most opportune time for repairs to be completed, Sulzer can design and install vibration monitoring equipment and analysis tools to implement a preventative maintenance schedule.
For pump equipment, Sulzer can also design, build and install the electrical control equipment, including drives and accessories. In addition, Sulzer also provides experienced field service engineers for on-site support of existing machinery as well as the installation and commissioning of new equipment.
To help customers with their in-house maintenance, experts from Bogota can deliver training courses on operational best practice and routine maintenance for a wide range of equipment.