Suez orders 'plug and play' variable speed drives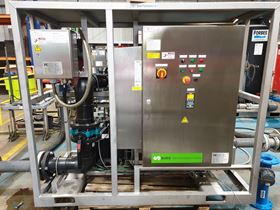 Danish engineering giant Danfoss has teamed up with water industry specialist Suez to supply 12 AC variable speed drives to control skid-mounted booster pumps.
Suez chose the VLT Aqua Drives but rather than having to implement additional hardware and extra connections between the drives, asked for a 'plug-and-play' solution requiring minimal on-site configuration and set up.
As a result, Danfoss engineers developed new firmware for the drives which supports cascade operation entirely over the Modbus connection that Suez uses to control its installations.
No additional connections are needed between the drives which simplifies installation on site and reduces the risk of errors. Full cascade control is also provided without the need for extra hardware, reducing cost and complexity.
The VLT Aqua Drives chosen are rated at 30 kW. The IP20 versions were used and fitted in stainless steel enclosures mounted on the pump skids.
Suez's skid-mounted booster pumps can be used individually two or more pumps can be used in combination.
Pump speed is adjusted automatically to provide a control over the output.