Masdaf aims for accreditation with test station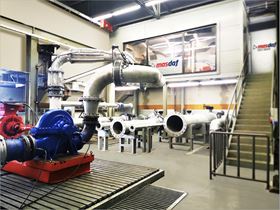 Turkish pump manufacturer Masdaf is hoping to obtain the internationally recognised EN IEC 17025 accreditation certificate with its newly developed Pump Performance Test Station, the result of two years' research and development.
Installed at Masdaf's Düzce plant in north west Turkey, the test station has the latest measuring devices and a fully automated control system. It instantaneously monitors the performance of the pumps and reports over the SCADA system.
All pump tests are carried out in accordance with the ISO EN 9906 standard. The main pump data, temperature and vibration measurements are uploaded to the data collection software via the SCADA system. Vibration and long-term endurance tests can be carried out without overheating.
Operations that could be dangerous due to high flow and pressure, can now be performed via the test station. It has a flow capacity of max. 10,000 m³/h and main supply pipelines with a diameter of 800 mm. The current installed power of 630 kW allows the test station to automatically perform tests on pumps with large flow capacity and power.