KNF launches low pulsation model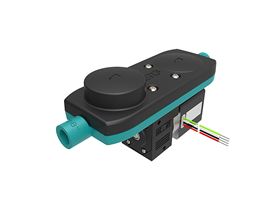 KNF has added another low pulsation pump, the FP 70, to its smooth flow series, which combines the low pulsation from gear and centrifugal pumps and the strength of diaphragm pumps.
The KNF FP 70 smooth flow pump can be used in applications such as medical technology, inkjet, 3D printing and analytical instruments. It is self-priming and can run dry, handles liquid transfer gently and cleanly and is chemically resistant.
The new pump has integrated pulsation dampening technology, eliminating the need for additional pulsation dampening elements and tubing which means the pump can operate with particularly low pulsation even where space is limited. It can be equipped with motors of different performance classes, and their parameters can be precisely customised.
The KNF FP 70 achieves a flow of up to 850 ml/min and has been developed for operations up to 2 bar (29.4 PSIG) pressure. In addition, the patented 4-point-valves ensure reliable self-priming of the pump, so no additional priming pump is required.