Kirloskar Brothers granted patent for CVP pumping assembly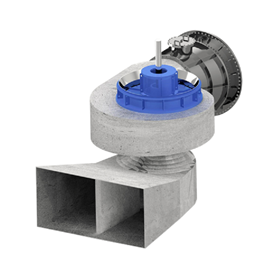 Kirloskar Brothers Limited (KBL) has been awarded a patent for its concrete volute (CVP) pumping assembly.
The CVP is so called because the casting suction draft tube is concrete while the rotating parts are metallic.
The casing is constructed in concrete on site with the pump suitable for handling large volumes of water with problems caused by corrosion and erosion virtually eliminated.
As a result, it offers a high level of efficiency over sustained periods and is easy to maintain. KBL claims it is 99.95% reliable.
KBL has designed and constructed CVPs for a range of applications including large irrigation and powers projects, stormwater facilities circulating/condenser cooling for power plants and desalination.
Clients include the Sardar Sarovar Narmada Nigam Ltd, Reliance Energy, National Thermal Power Corporation, Nuclear Power Corporation of India and BMA Thailand.
KBL has eight manufacturing facilities in India along with international subsidiaries and operations in the Netherlands, South Africa, Thailand, the United Kingdom, and the United States.