Gardner Denver introduces safer cover retainer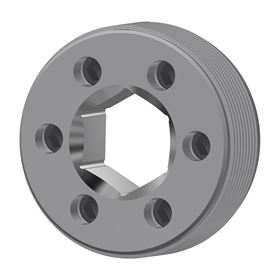 Gardner Denver High Pressure Solutions (HPS) has launched its new Hammerless Frac Suction Cover Retainer, which holds a pump's valve cover in place and is designed for applications up to 17,850 psi.
Traditionally, valve cover retainers are installed and tightened with a sledgehammer, risking injury to workers. The Hammerless Frac Suction Cover Retainer allows for the installation and loading of the joint without the use of hammers. This is accomplished by the creation of push-off force via six jackscrews, which are torqued to generate joint closure force.
Chris Degginger, director of engineering, Gardner Denver HPS, said: "The Hammerless Frac Suction Cover Retainer has the ability to generate far more joint closure force than a normal, hammer-style retainer. This helps prevent loosening when pumping at high pressures and improves safety for onsite personnel. The high preload generated by our Hammerless Frac Suction Cover Retainer also increases the fatigue life of the fluid end threads, boosting productivity and reliability for the user."