EKKI sets up Water Technology Centre in Coimbatore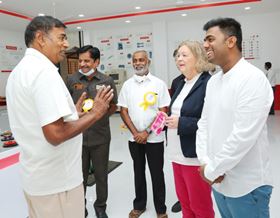 EKKI Group and KPR Institutions have launched the EKKI-KPR International Water Technology Centre (EIWTC) in Coimbatore, India.
The EIWTC will be a global centre of excellence for pumps and water related technologies. The centre will lead on the best practice in teaching and research for the pump industry and water related technologies, along with consultancy and entrepreneurship.
Based at the KPR Institutions in Coimbatore, the new EIWTC will build on the expertise of more than 45 researchers and academicians from KPR and over 40 engineers from EKKI. The focus will initially be on skills training, knowledge transfer and encouraging entrepreneurship in the water industry.
Backed by India's KPR Group. KPR Institutions is an academic centre for artificial intelligence and data science, chemical engineering, biomedical, civil, computer science, electronics and communication, electrical and electronics and mechanical engineering.
EKKI has established the centre, the first of its kind in the Indian pump and water industry, to bridge the gap between academia and industry. The pump company's customer-training programs, employee training and other aspects of its wider skills projects will also be included in EIWTC.
EIWTC was inaugurated by Karin Stoll, German Consul General, in the presence of Dr KP Ramasamy, chairman and TN Arun, executive director, KPR Group; P Arumugam, chief executive and Kanishka Arumugam, co-CEO, EKKI Pumps; and Dr AM Natarajan, chief executive and Dr M Akila, principal, KPRIET.
"We are very proud that EKKI has established the centre in our institution," said Dr KP Ramaswamy, chairman of KPR Group. "KPR students thrive on innovation and creative exploration. I admire EKKI's vision in providing this focus and governance for its learning and development."
"At EKKI we have studied how academic institutions and industry can work together successfully on the lines of University-Industry Collaboration at Oxford, Fraunhofer in Germany and the Warwick Manufacturing Group in England," said Kanishka Arumugam, co-CEO of EKKI. "Through providing opportunities for continuous learning and research from recruitment to retirement, the centre will ensure that we have the skills needed to compete globally."
EKKI and Germany's HOMA Group established a joint venture in 2018 to manufacture and sell wastewater systems for the Indian and neighbouring markets.