Chesterton releases monitoring sensor and app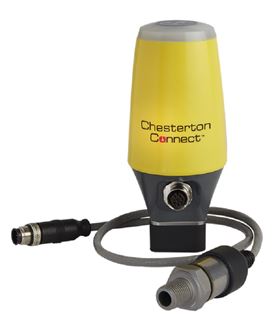 Chesterton's new simplified equipment and process monitoring sensor and app, Chesterton Connect, helps industrial teams increase the MTBR of rotating equipment.
Chesterton Connect is a 24/7 equipment monitoring sensor that enables users to safely and conveniently monitor changes in equipment vibration, equipment surface temperature, process pressure and process temperature. It can be used with any rotating equipment such as pumps, mixers, gear boxes, motors, and fans.
The sensor communicates with a mobile application via Bluetooth and the app supports multiple sensors to provide a comprehensive view of a plant's equipment health. The app alerts the user when equipment operating limits are exceeded. The collected data can be exported for analysis to help the user understand the equipment's operation and take preventative actions to extend MTBR.
Steve Bullen, product director of Chesterton Mechanical Seals product line, said: "Chesterton Connect automatically stays on top of equipment changes that pose a problem. It gives pump operators time to make the necessary adjustments, helping to avoid costly unplanned downtime."