Atlantic Pumps achieves ISO 9001 accreditation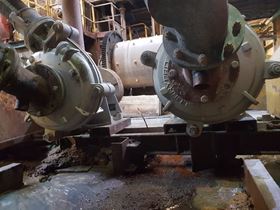 UK-based pump manufacturers Atlantic Pumps has recently been awarded accreditation from the internationally recognised quality management system standard. ISO 9001.
ISO 9001 is issued to companies who can demonstrate a continual ability to provide strong levels of service and products that meet customer and regulatory requirements.
Atlantic Pumps is a specialist in pumping abrasive and aggressive fluids and works closely with the quarrying, mining, recycling and aggregates industries. It has achieved its position in the sector by offering high quality products backed by exceptional service and using the latest technologies;
Atlantic is part of the Intrax Global Group and its established stable of brands includes Audex industrial submersible and dewatering pumps, SlurryPro horizontal and vertical centrifugal slurry pumps and Gromatex heavy duty rubber lined products.
Talking about the awarding of the certificate, Atlantic Pumps' Bill Noakes, who has been working through the certification process said: "We are pleased to have our quality system recognised to be at an internationally recognised standard of excellence."